---
Thunderbolt 4
Thunderbolt 4 builds on the innovation of Thunderbolt 3 for a truly universal cable connectivity experience. Thunderbolt 4 always delivers 40 Gbps speeds and data, video and power over a single connection. It is the most comprehensive Thunderbolt specification yet with compliance across the broadest set of industry-standard specifications – including USB4, DisplayPort and PCI Express (PCIe) – and is fully compatible with prior generations of Thunderbolt and USB products. Thunderbolt 4 certification requirements include:
Double the minimum video and data requirements of Thunderbolt 3.

Video: Support for two 4K displays or one 8K display.
Data: PCIe at 32 Gbps for storage speeds up to 3,000 MBps.

Support for docks with up to four Thunderbolt 4 ports.
PC charging on at least one computer port2.
Wake your computer from sleep by touching the keyboard or mouse when connected to a Thunderbolt dock.
Required Intel VT-d-based direct memory access (DMA) protection that helps prevent physical DMA attacks.

 
Faster data transfers when connected to Thunderbolt devices.
Zikko thunderbolt 4 cable supports data transfer rates of 40Gbps when connected to a Thunderbolt 4 device, so you can transfer photo and video files at four times the speed of a USB 3.1 Gen 2 (10Gbps) cable. For example, you can transfer a 4K movie in seconds. When connected to a USB 3.1 device, the cable supports data transfer rates of 10Gbps.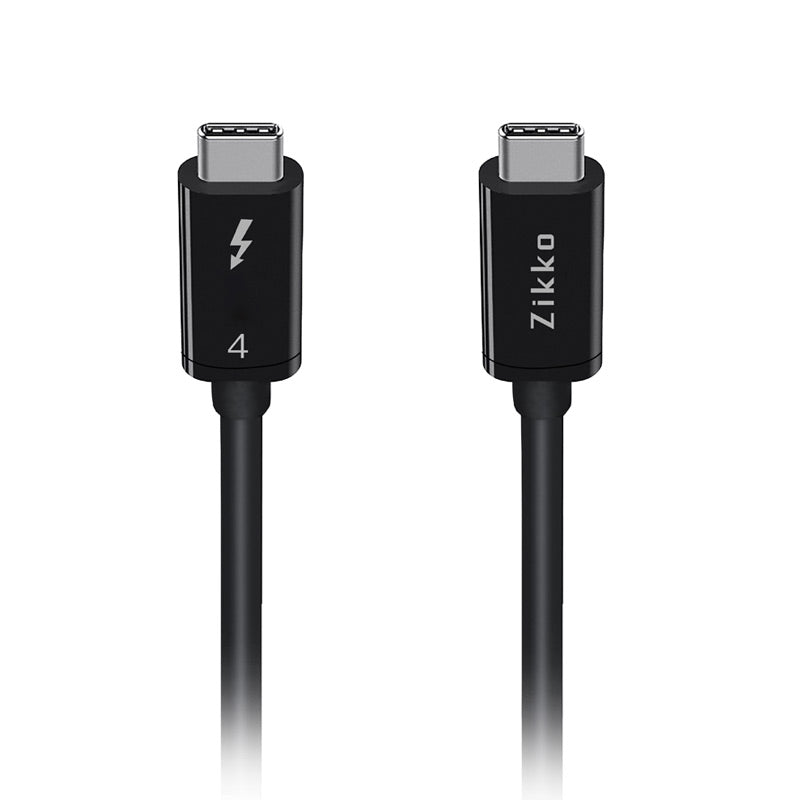 USB-C compatible.
The Thunderbolt 4 cable is fully compatible with all of your USB 3.1 Gen 2 devices and can be used for charging and syncing your mobile devices. You can also connect and power USB-C laptops, such as your MacBook or Chromebook, and USB-C peripherals, such as your portable hard drive and docking station.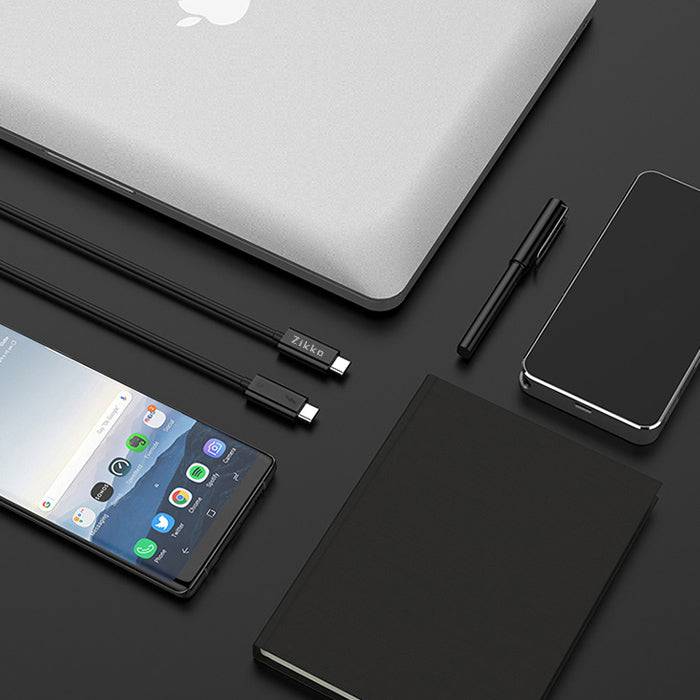 Supports up to 100W Power Delivery.
Provide four times with the data transfer speed of any other cable type, enable dual 4K 60Hz video, even 8K 60Hz video, and power your devices with a single cable.
Full 8K video
The cable supports full 4K 60Hz, 5K 60Hz or 8K 60Hz video. The cable also supports DisplayPort 1.4 and is compatible with existing DisplayPort displays. It's perfect for connecting your docking station or laptop to a monitor with astonishing resolution, contrast, and colour depth for amazing detail.
Thunderbolt networking
The cable gives you an easy way to bridge multiple Thunderbolt 4 enabled laptops for peer-to-peer 10GbE networking. It's perfect for setting up small workgroups and sharing peripherals such as printers and storage. You can also connect two Thunderbolt 4 laptops together for PC migrations.
Appearance function
Superior cable construction
Miniature coaxial cables
5A power cord
Electricity telecommunications lines
Data telecommunications lines
Audio/video telecommunications lines
Micro tinned copper braid shielding
Flexible TPE cable jacket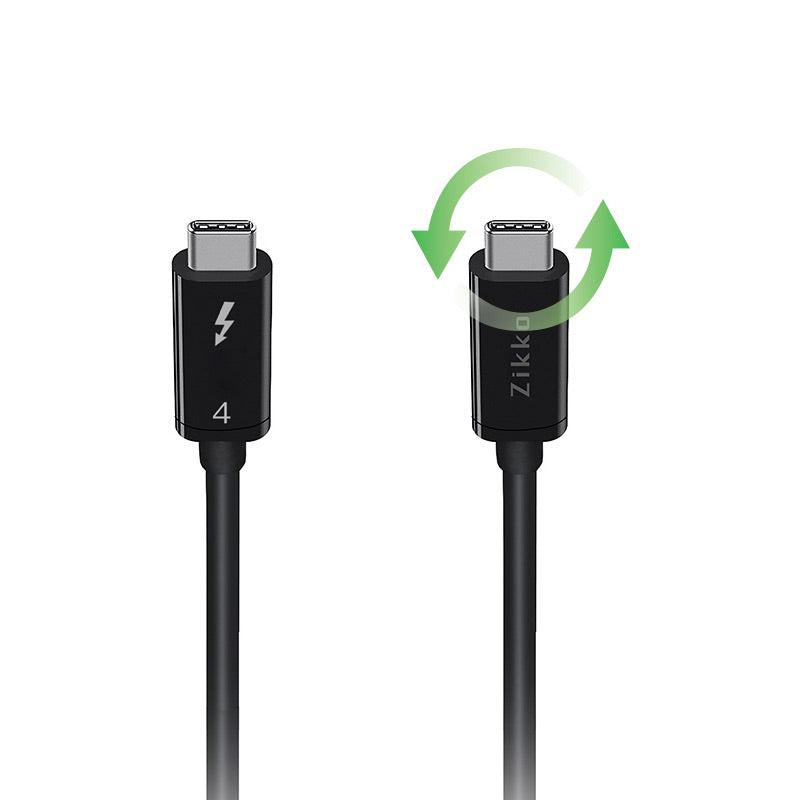 Appearance function
Versatile power delivery
USB-C is a new, reversible and smarter connector that's easier to plug in and enables us to double the charging & transfer speed and carry significantly more power.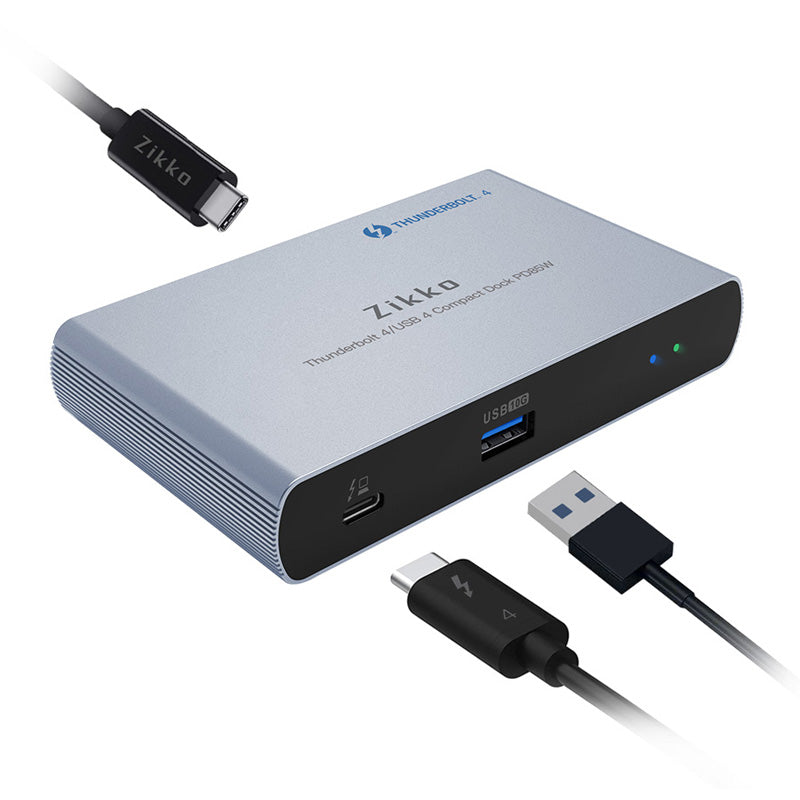 Faster, Stronger, Smarter
Stop juggling countless adapters and connections to make your laptop serve desktop duty. All you need to do is plug the Thunderbolt 4 Dock into your computer to instantly connect to all of your desktop devices and displays.
Safety protection
More Pixels. More Possibilities.
What does this mean for end users? At 40Gbps, it is the fastest connection to your computer. You can transfer a 4K movie in less than 30 seconds. You can connect two 4K displays with nearly 16 million more pixels than an HDTV.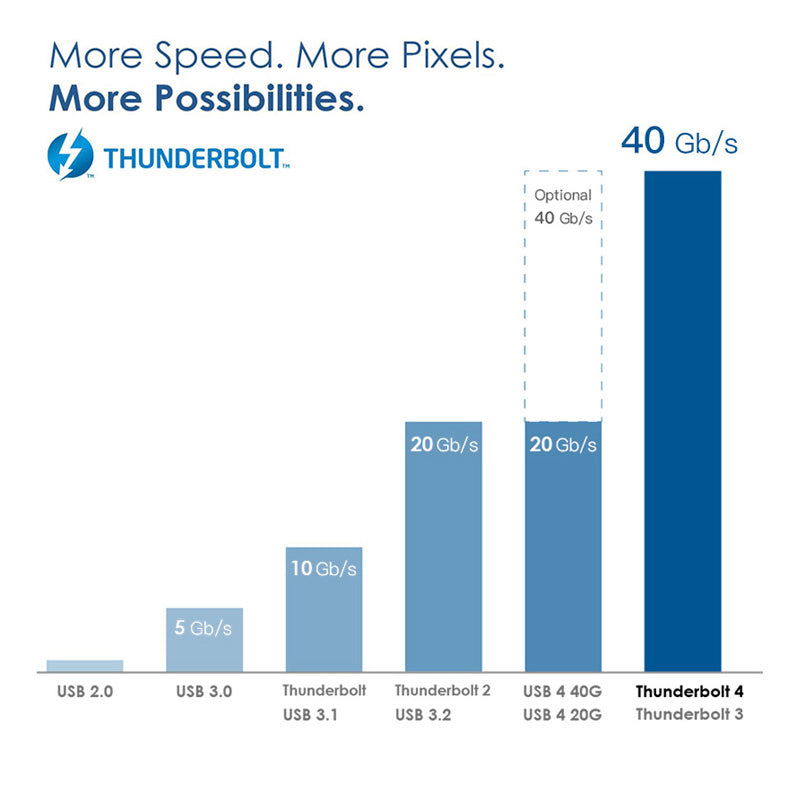 Wide Voltage Range
The Latest in Thunderbolt™ 4 Technology
Paired with the 8th Generation Intel® Core™ processor family or the latest Intel® Core™ vPro™ processors, Thunderbolt™ 4 technology optimizes PC performance.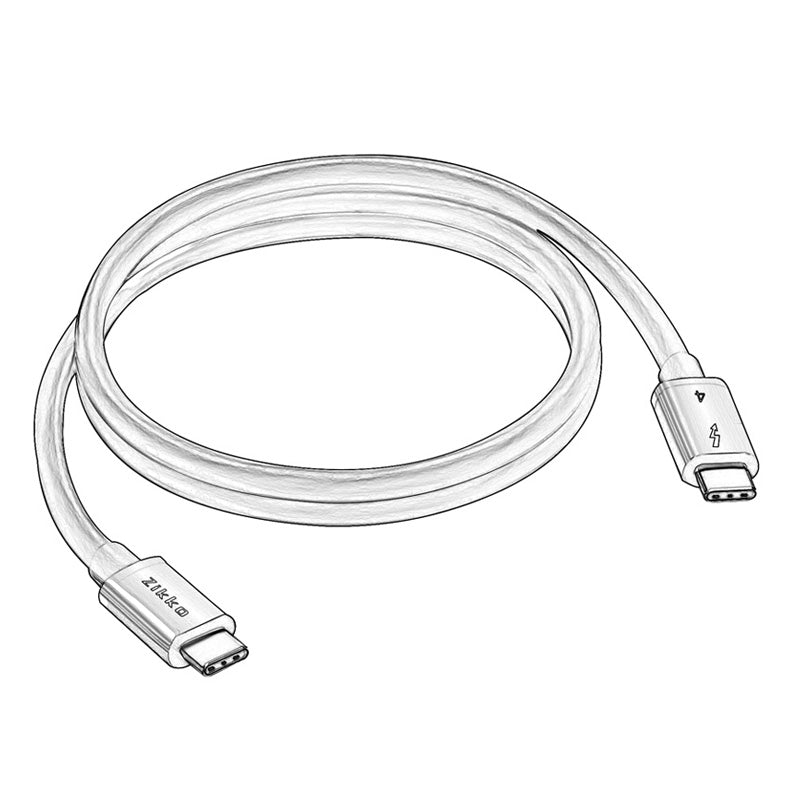 Specifications
• Brand:Zikko
• Model: M-TB4080   /   M-TB4200
• Colour: Black
• Length:0.8 meters   /   2 meters
• Wire width: 5mm
• Cable type: USB-C to USB-C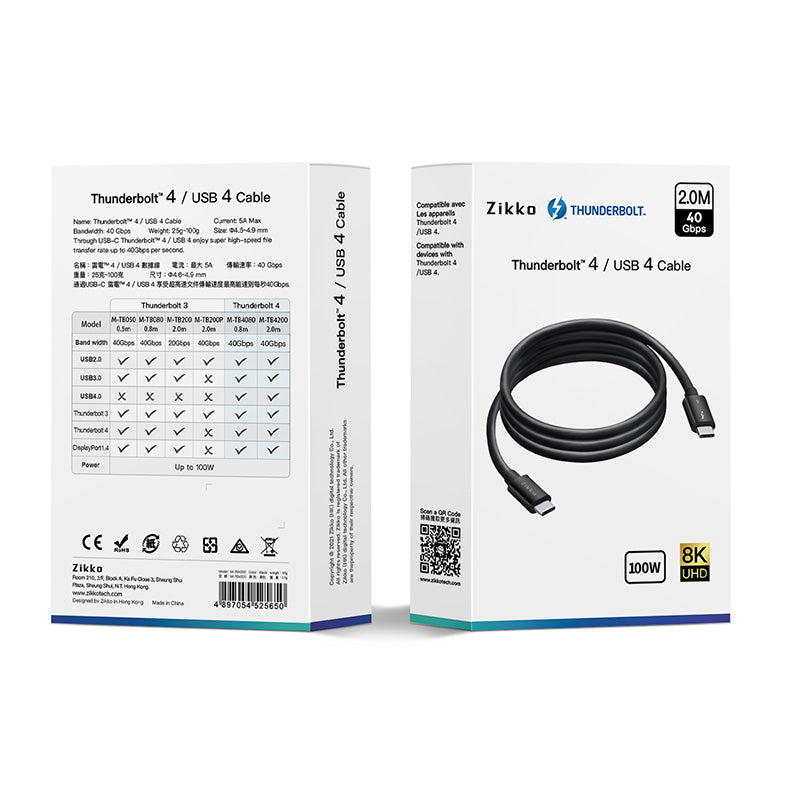 GG
I LIKE THUNDERBOLT, FAST AND POWERFUL.
QUESTIONS & ANSWERS
Have a Question?
Be the first to ask a question about this.
Ask a Question
<transcy>商業合作夥伴</transcy>
<transcy>商業合作夥伴</transcy>