---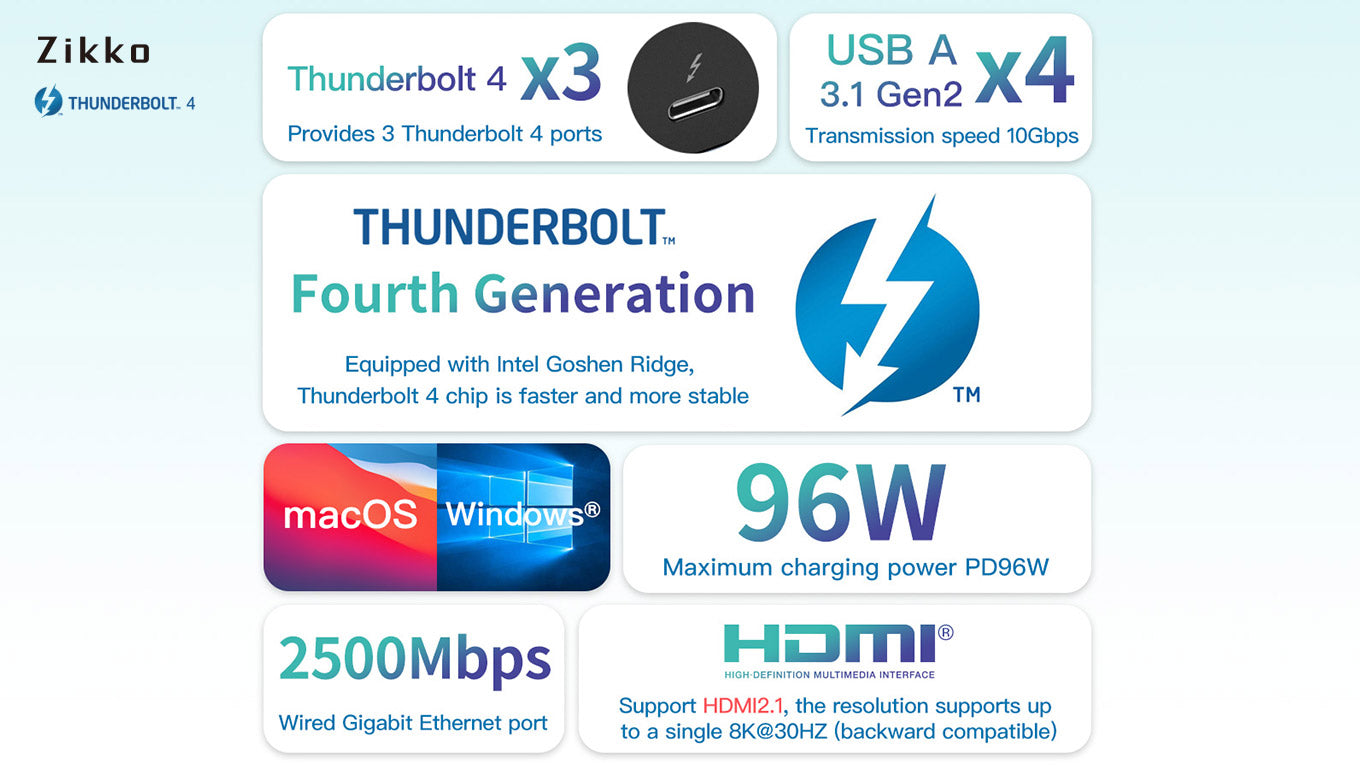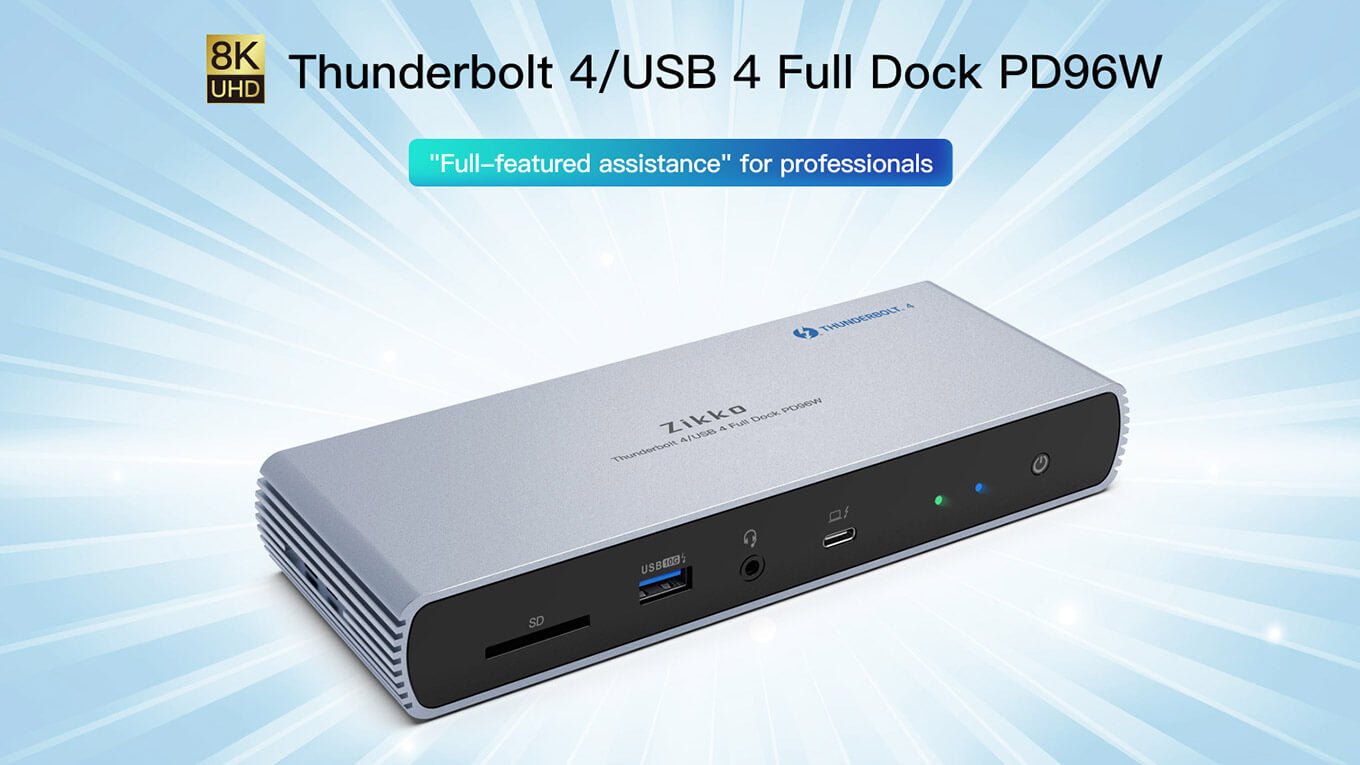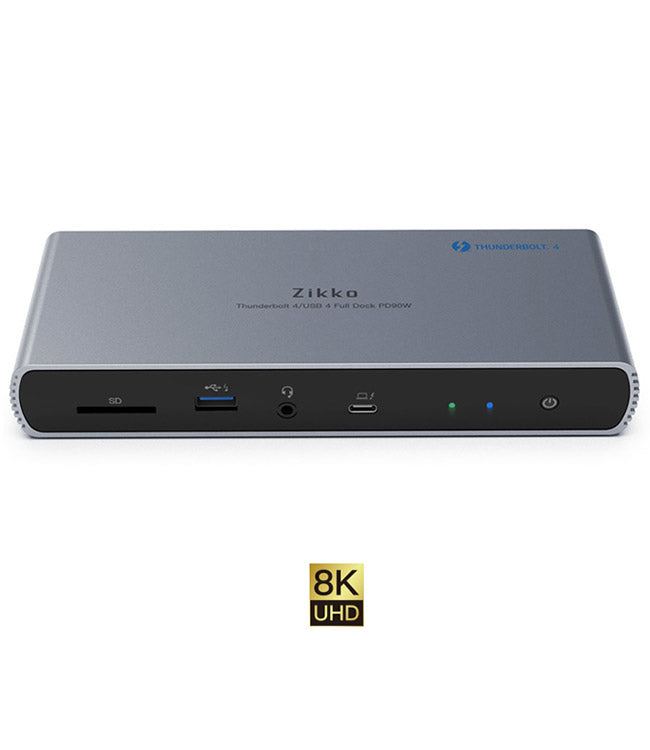 Thunderbolt 4/USB 4 Full Dock PD96W
Zikko Thunderbolt 4 / USB 4 Full Dock (Model: M-TBD4096) is a professional-grade docking station, based on the Intel Thunderbolt 4 Goshen Ridge controller, designed to meet the demanding requirements of high transfer rate work. It is not only suitable for Thunderbolt 4 devices, but also backward compatible with Thunderbolt 3, USB 2.0 , VESA Alternate Mode (MFDP) and USB4, and is also suitable for Windows and Mac systems.
The docking station provides a full power solution with a dynamic PD up to 96W. The equipped Thunderbolt 4 / USB 4 downstream ports can be connected to Thunderbolt and USB-C peripherals, with lightning-like 40Gbps transmission speed and the best performance of high-resolution video output. You can also pass HDMI 2.1 and 2.5GbE Ethernet ports Enjoy single-port video output up to 8K@30Hz, equipped with functions that allow creative professionals and gamers to easily deal with any challenges at work.

Advanced Thunderbolt 4 ports, professional-grade full-featured docking station
Easy to get, 8K monitor, keyboard, mouse, headset, power supply, SD 4.0 card reader,hard disk and other professional equipment, etc., to meet professional expansion needs.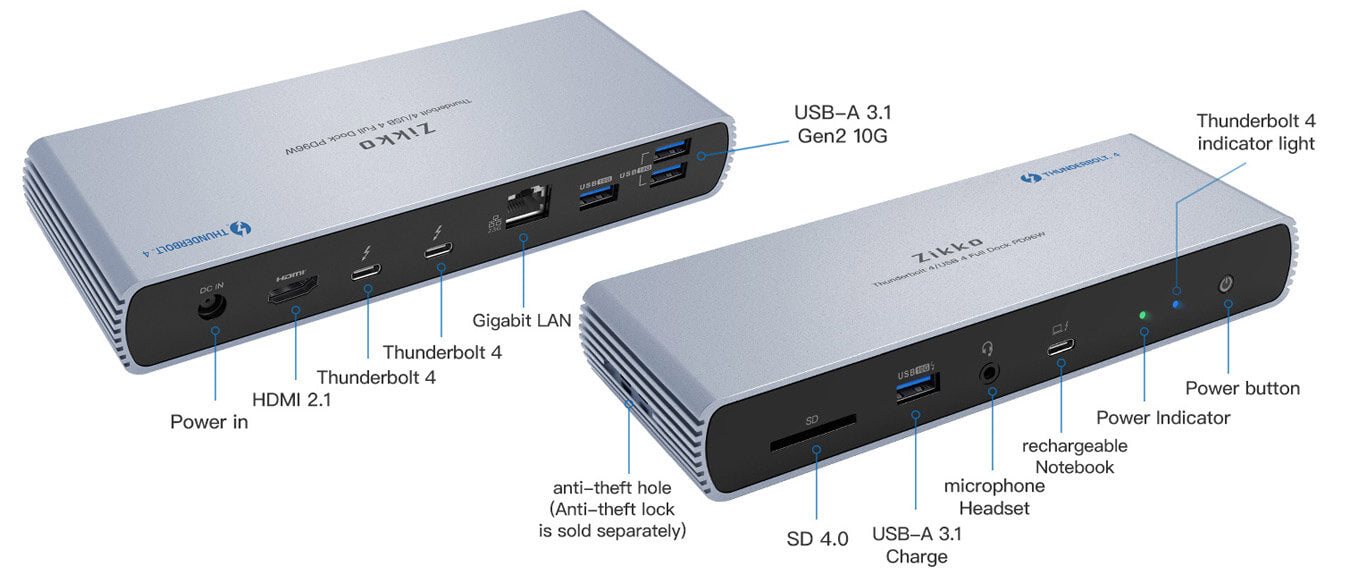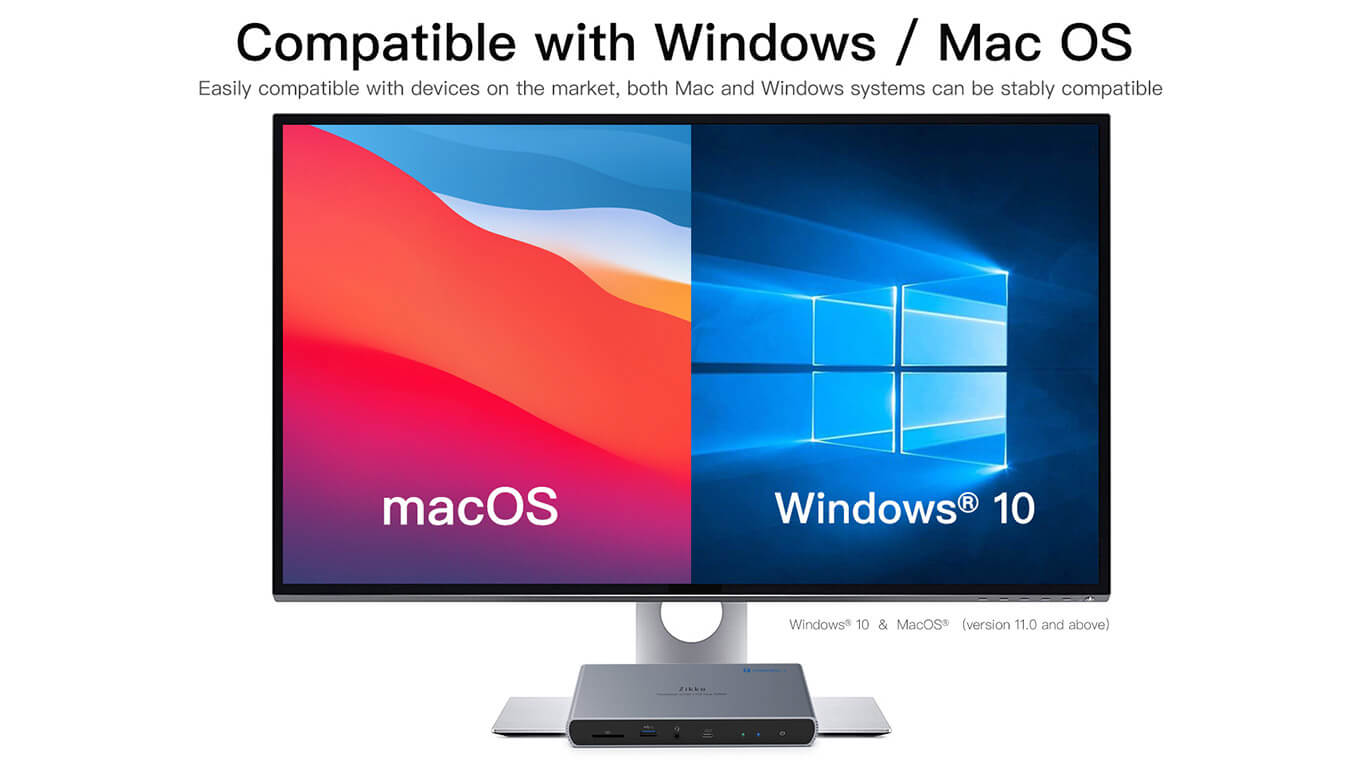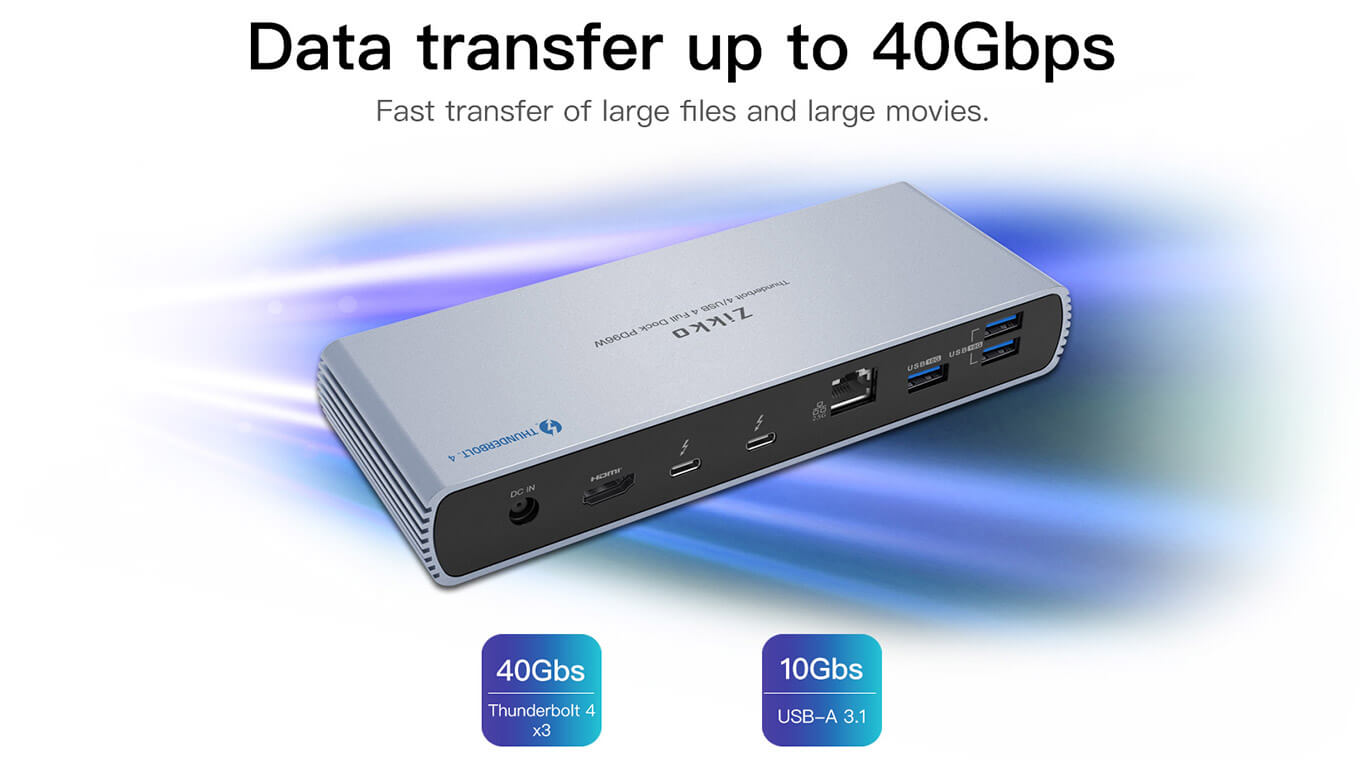 Supports dual 4K monitors, or a single 8K monitor
Ultra HD output via Thunderbolt 4 and HDMI ports supports dual 4K 60Hz monitors for the versatile desktop configuration needs of professionals. A single 4K can reach 120Hz, and supports up to 8K 30Hz.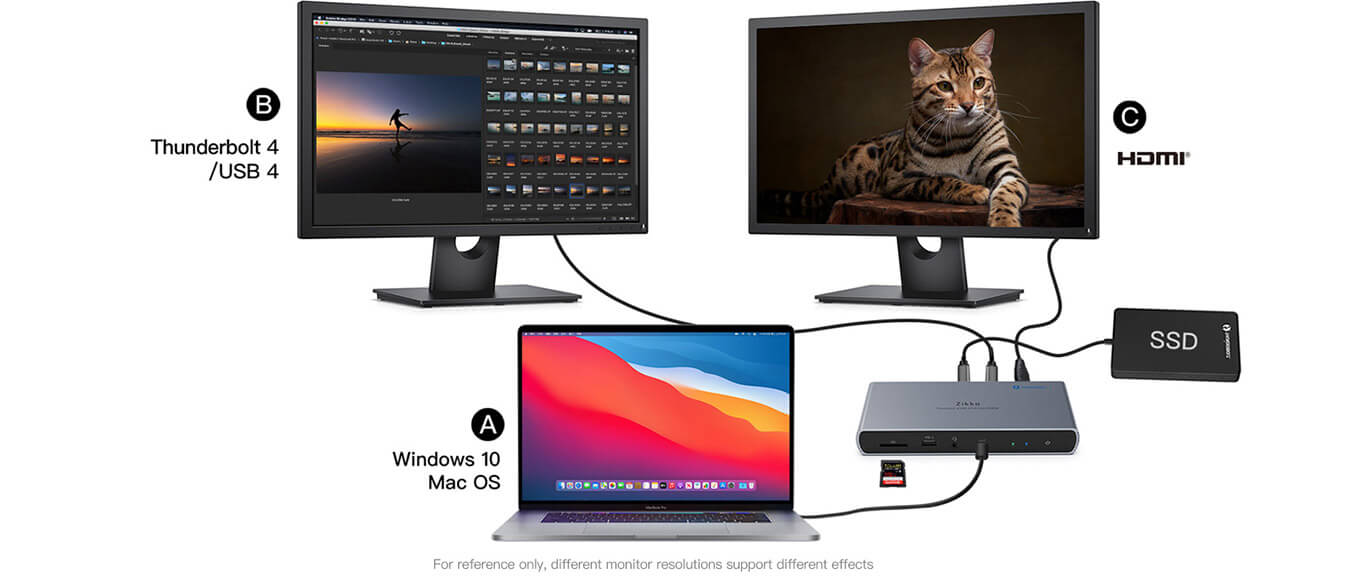 Say goodbye to redundant equipment work more handy
A Thunderbolt 4 full-function expansion dock is enough to meet the professional link equipment, making creation more efficient, and it is very suitable for professionals in creative work.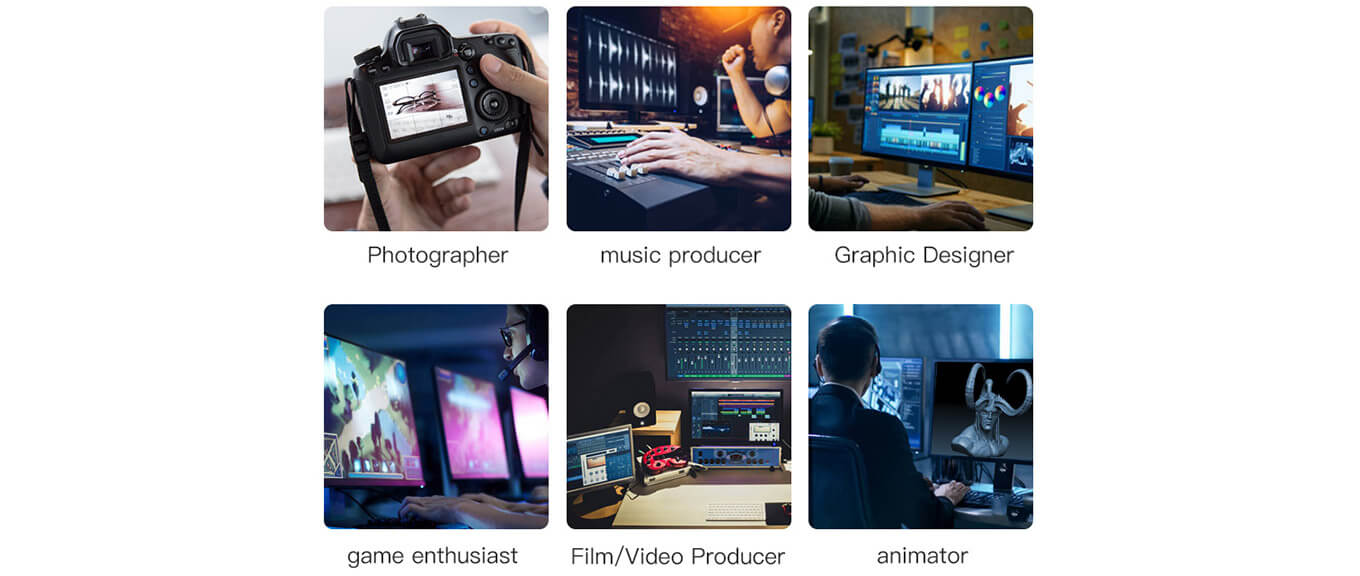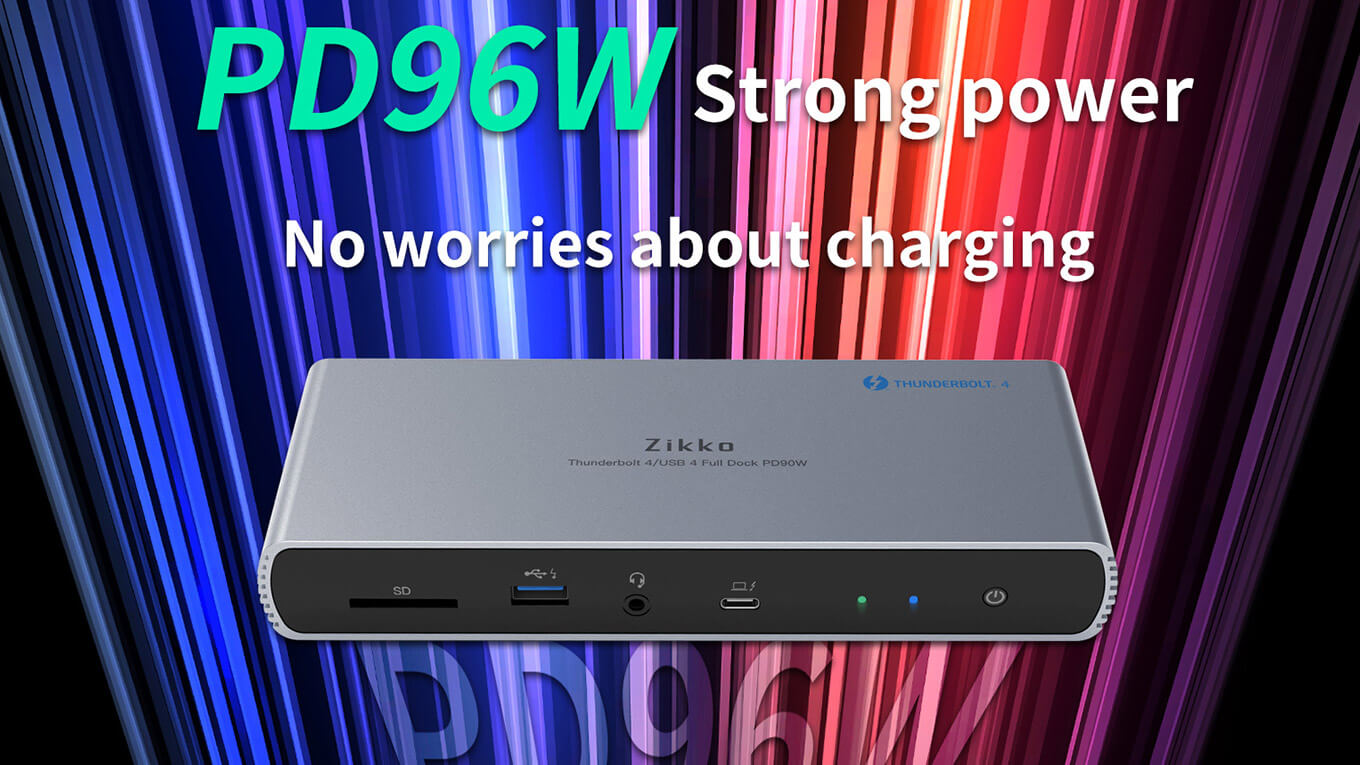 2500Mbps

Network port
Ethernet access port, transmission bandwidth supports 10 / 100 / 1000 / 2500Mbps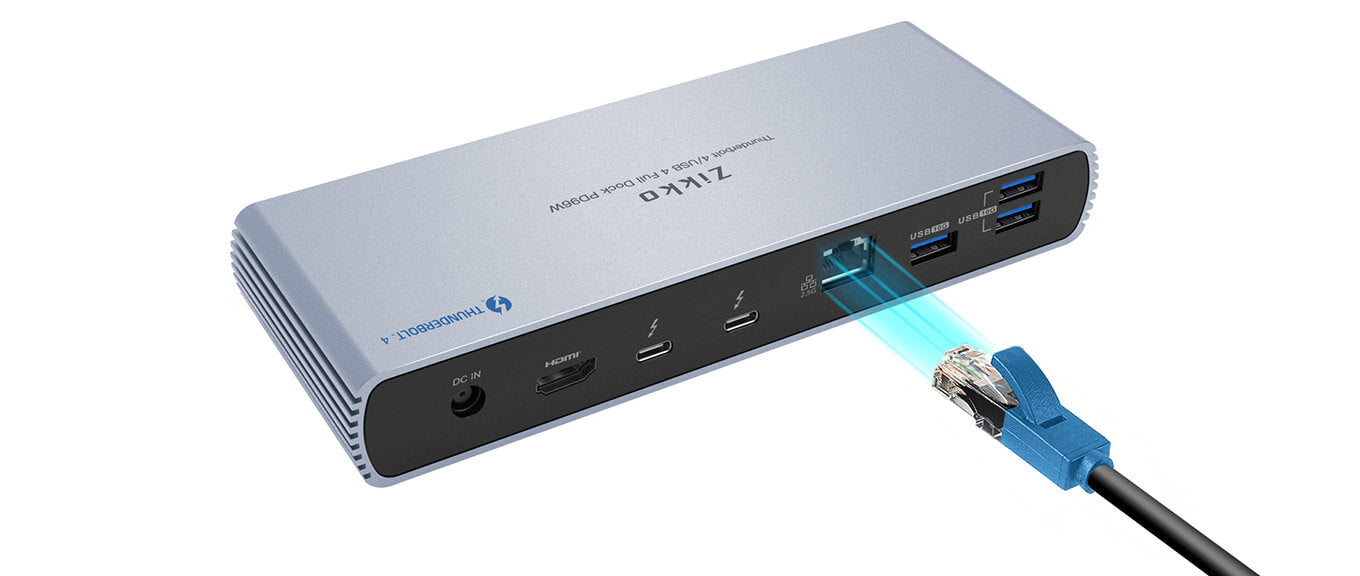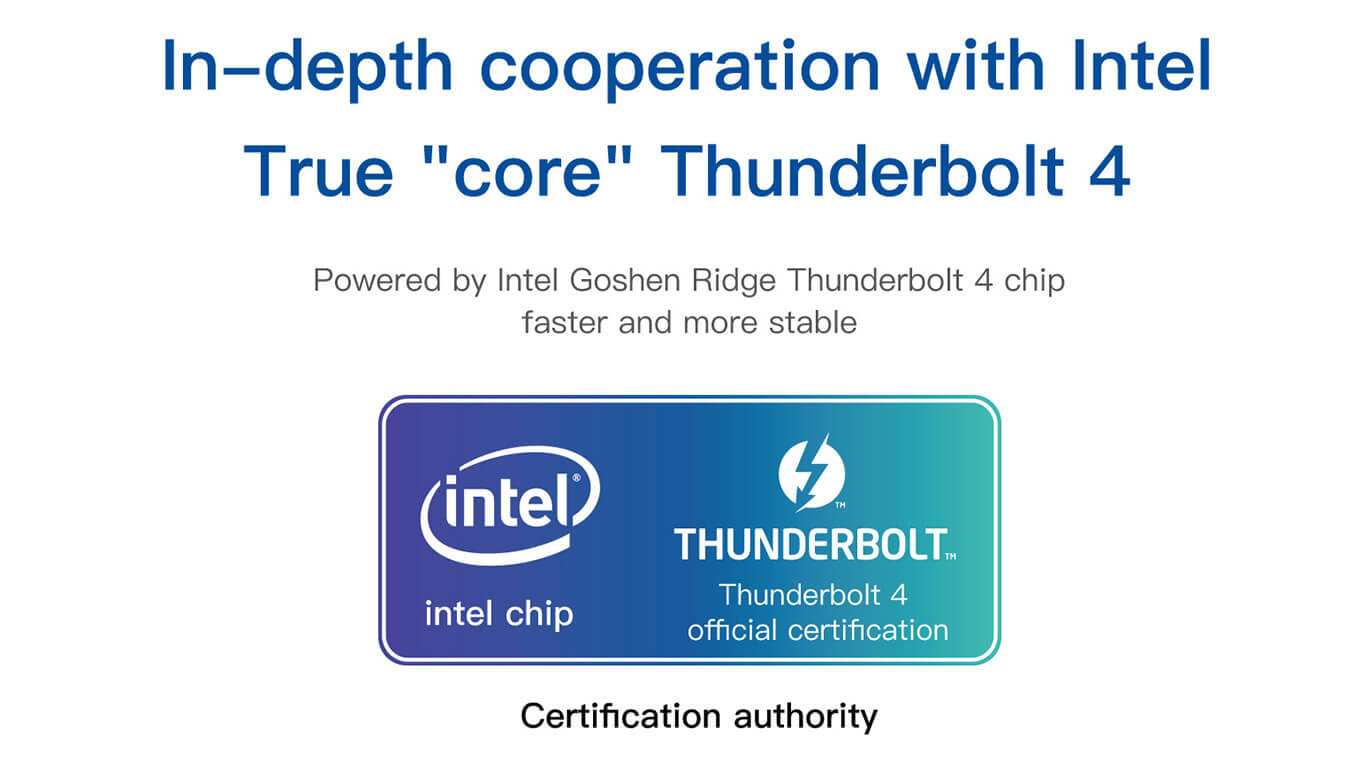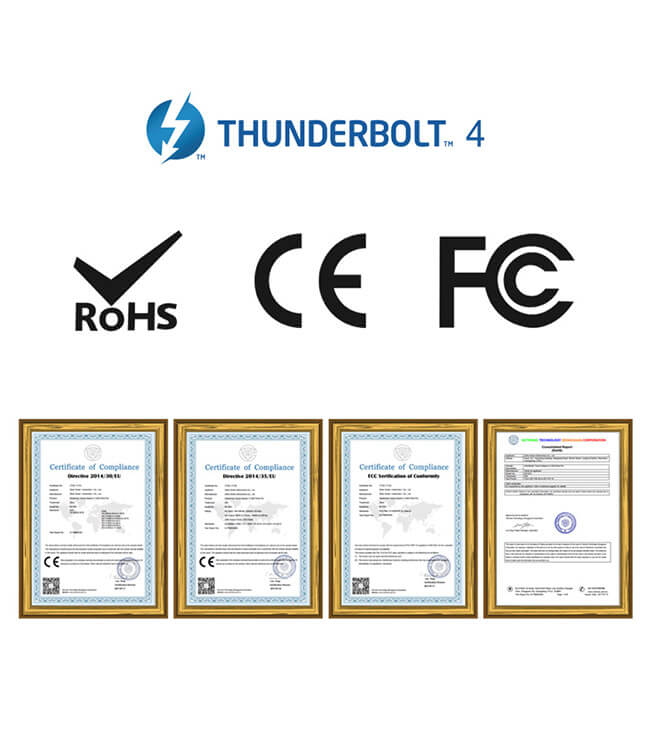 International certification
CE & FCC & Thunderbolt 4/USB 4 Declaration of Conformity: M-TBD4085 complies with EU CE, RoHS, FCC and other relevant specifications.At the same time, our products still meet the requirements of Thunderbolt 4/USB 4 technical specifications, and have obtained relevant certification and authorization. The included Thunderbolt 4 cable is compliant with certification.
Specifications
Model:M-TBD4096
Thunderbolt 4/USB 4 port:transmission speed 40Gbps, support PD96W (Max) output (uplink connection to computer)
Thunderbolt 4/USB 4 ports:transmission speed 40Gbps, support single 8K@30Hz or dual 4K@60Hz video output (downlink link expansion device)
USB-A3.1 port:Gen2 transmission speed 10Gbps (front USB-A supports BC1.2 (5V/1.5A) and Apple2.1A power supply)
HDMI port:Support HDMI2.1, resolution support up to Single 8K@30HZ (downward compatible)
Ethernet port:Ethernet access port, transmission speed support 10/100/1000 / 2500Mbps
Audio port:Support Hi-RES output and microphone input
SD card port:support SD card 4.0 read and write
LED display:the green light is on when starting up, the blue light is on when the lightning signal is connected
Power adapter:AC 100-240V~2.37A / 50-60Hz
DC input: 20V/6.75A 135W
Working temperature: 0℃~35℃
Storage temperature: -20℃-70℃
Volume: 199.5*74.8*31.1mm (host)
Material: Aluminum alloy + (PC+ABS) (host shell)
Wiring: Thunderbolt 4 cable, L700mm
Weight: 441.3g (host)
Color: gray (middle frame) + black (panel)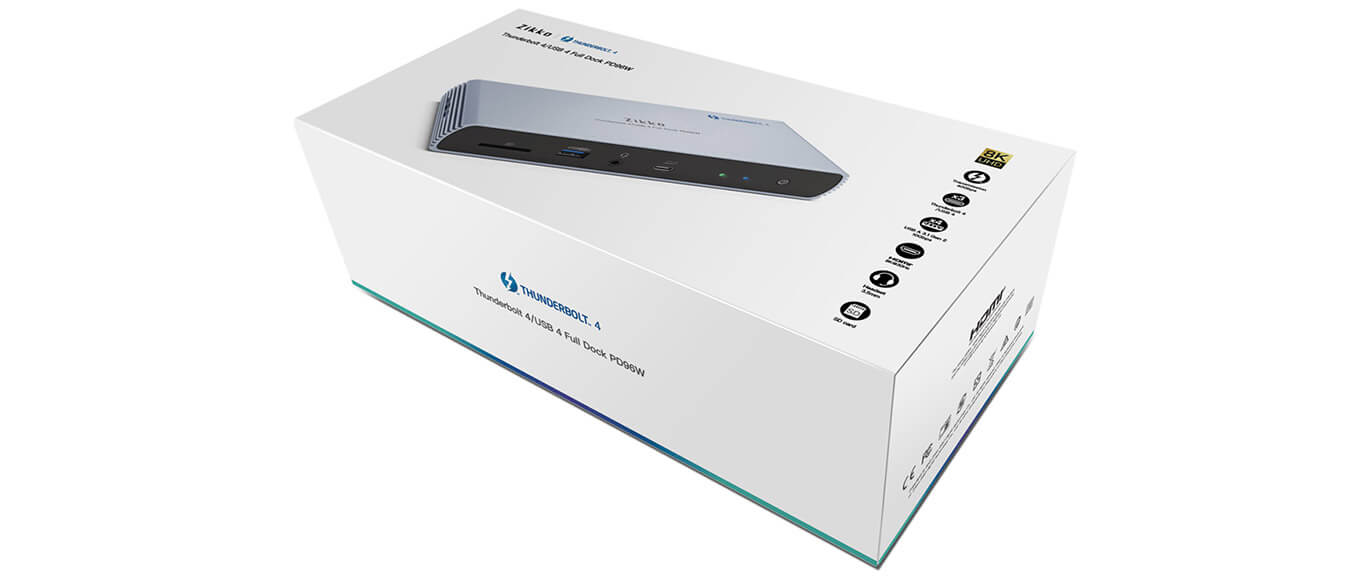 This is the Thunderbolt 4 / USB 4 Full Dock PD96W
* M-TBD4096 host    * Thunderbolt 4 cable    * Power adapter & power cord    * Manual
QUESTIONS & ANSWERS
Have a Question?
Be the first to ask a question about this.
Ask a Question