---
SitPad
15 MINUTES QUICK
BUTTOCKS
THERAPY 

.
That's right! Just 15 minutes It will bring you an incomparable feeling of complete soothing and relaxation in an instant.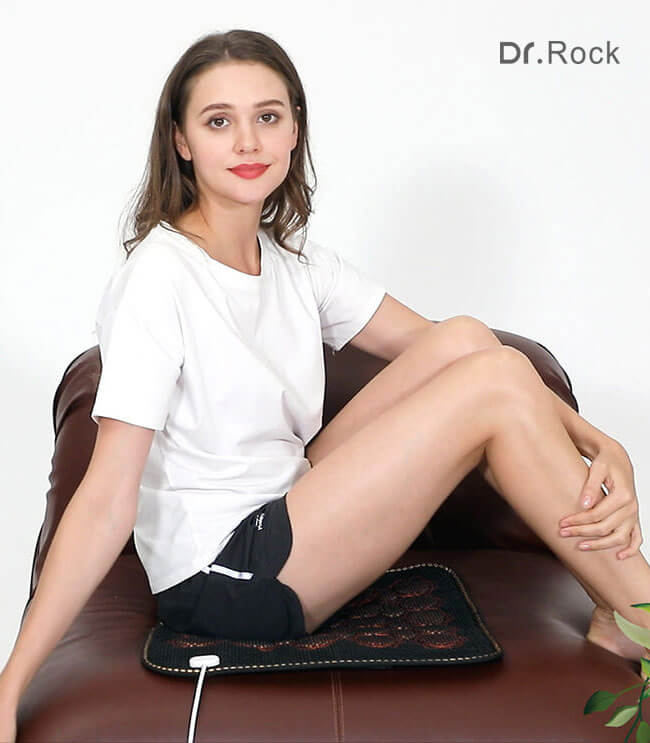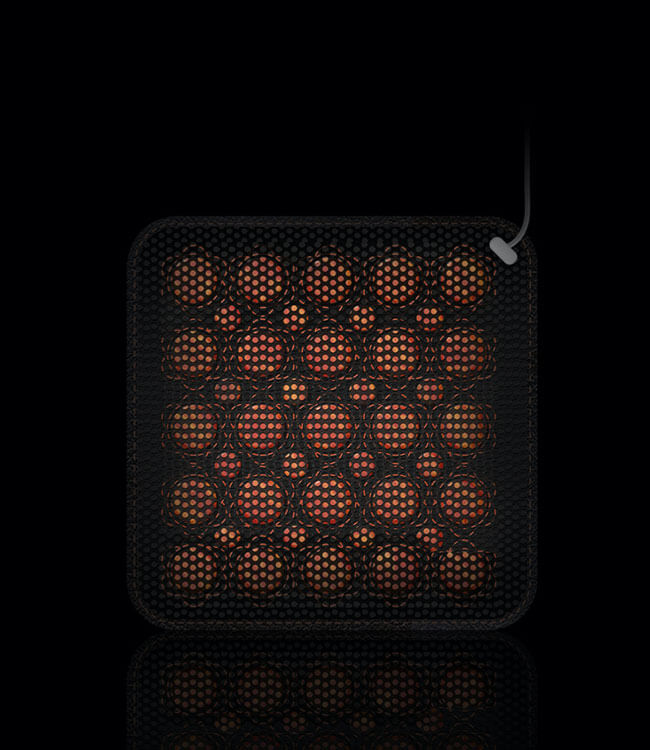 BianStone Far Infrared Heating Therapy SitPad
My Friend , My Health.
This revolutionary therapy pad adopts a brand-new heat energy injection technology, and it only takes 15 minutes to bring you an unparalleled feeling of total soothing and relaxation in an instant. Human body safe low-voltage input, and can heat up extremely quickly, emit far infrared rays into the body, and produce the same frequency with cells, activate cells, promote blood circulation, relieve pain, improve cold and cold constitution, and warm compress Reduce inflammation, restore physical fitness, and help the body absorb nutrients. The graphene heating cloth is heated, the electromagnetic wave is close to 0, water and electric shock is prevented, and a large amount of fresh negative ion is produced. Whether at home or at work, it is your good friends.  Enjoy the warm health care made of pure natural BianStone (scraping stone) combined with Graphene !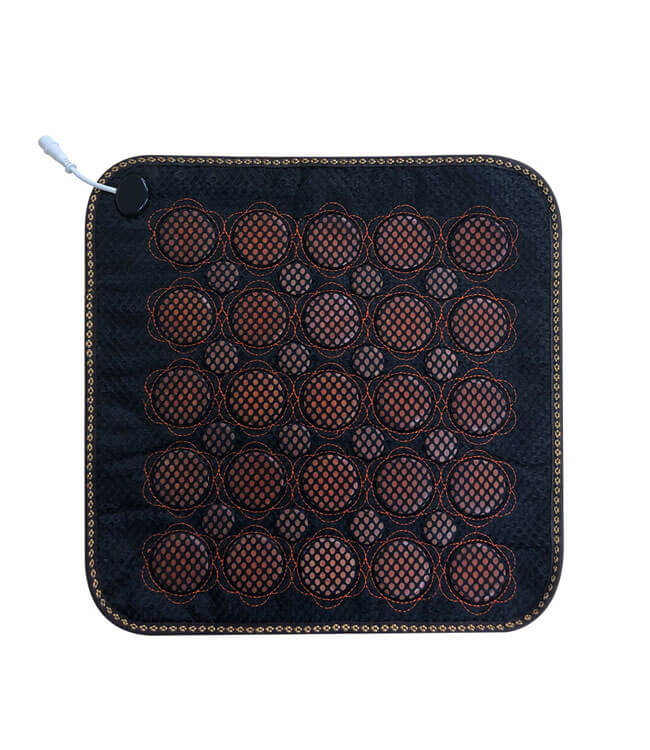 Innovative technology ,Natural choice.
Natural BianStone + Nano Graphene = PERFECT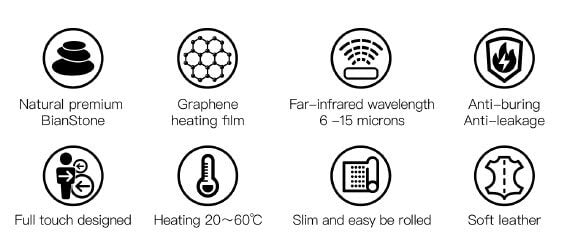 Physiotherapy effect
SitPad, Also xPad.
(Soothing) : Contribute to physical fatigue and pain, hemorrhoids, improvement of acidic physique, women's menstrual period discomfort and male prostatitis, etc...
(Promote blood circulation.) : Anticoagulant, reduce blood viscosity, speed up and improve human blood microcirculation.
(Cell regeneration.) : Far infrared rays help accelerate the process of cell regeneration and wound healing.
(Deeply nourish.) : According to user feedback, the nourished skin feels softer and rosy.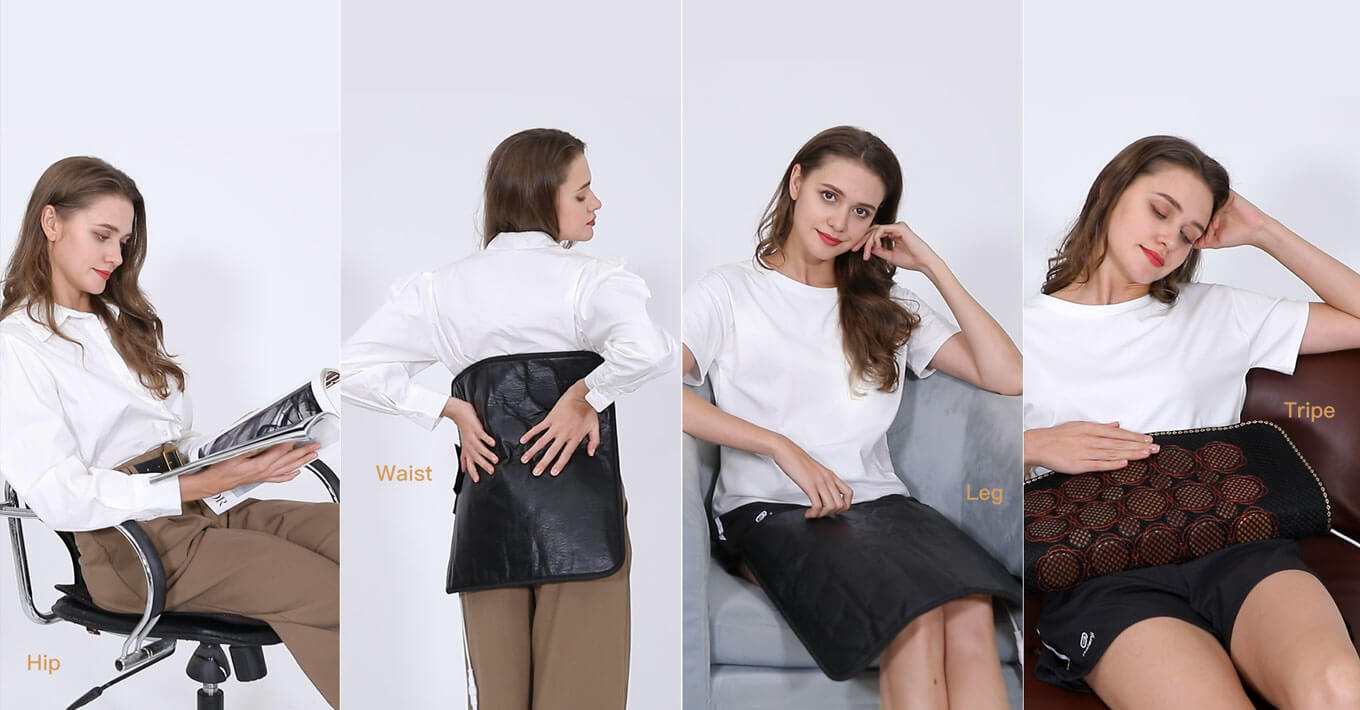 Like magic
(Strongly add heat.) : Deeply keep warm, the heat content of the skin increases by more than 130% after use, and the effect is maintained for up to 1 hour.
(Revitalize physical fitness.) : Penetrating far infrared rays increase microcirculation and deliver nutrients and oxygen to every cell, making the body more vigorous, free from fatigue, and showing youthfulness.
(Activate cells.) : Far infrared rays help accelerate the process of skin regeneration and healing.
(Improve physical fitness.) : The effect of far-infrared rays can quickly change the PH value of acidic water in the body from 5.0 to pH 7.0, which is alkaline.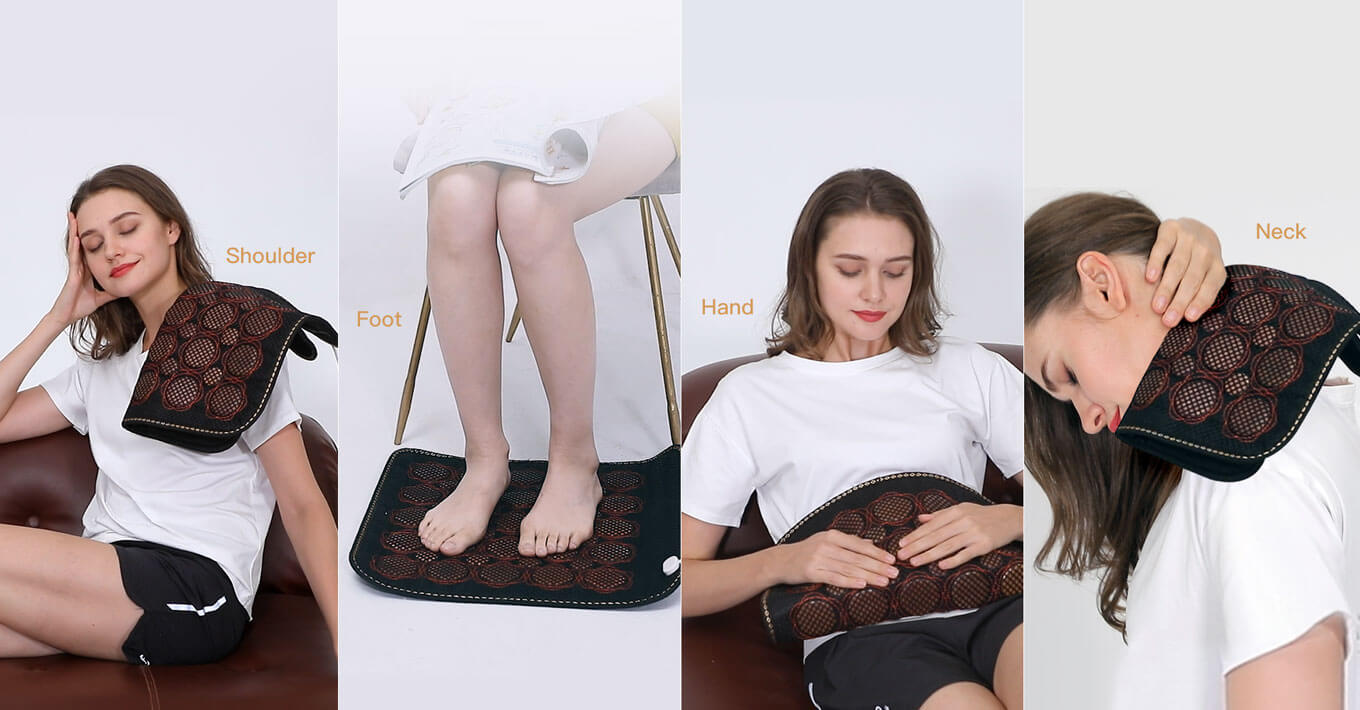 Advanced Features
New heat injection technology
Integrating the latest graphene extreme heat conduction and far-infrared co-vibration technology, SitPad not only instantly injects heat into the body, it can also penetrate clothing and subcutaneous cells to co-vibrate and generate heat at the same frequency to achieve the best results and effects.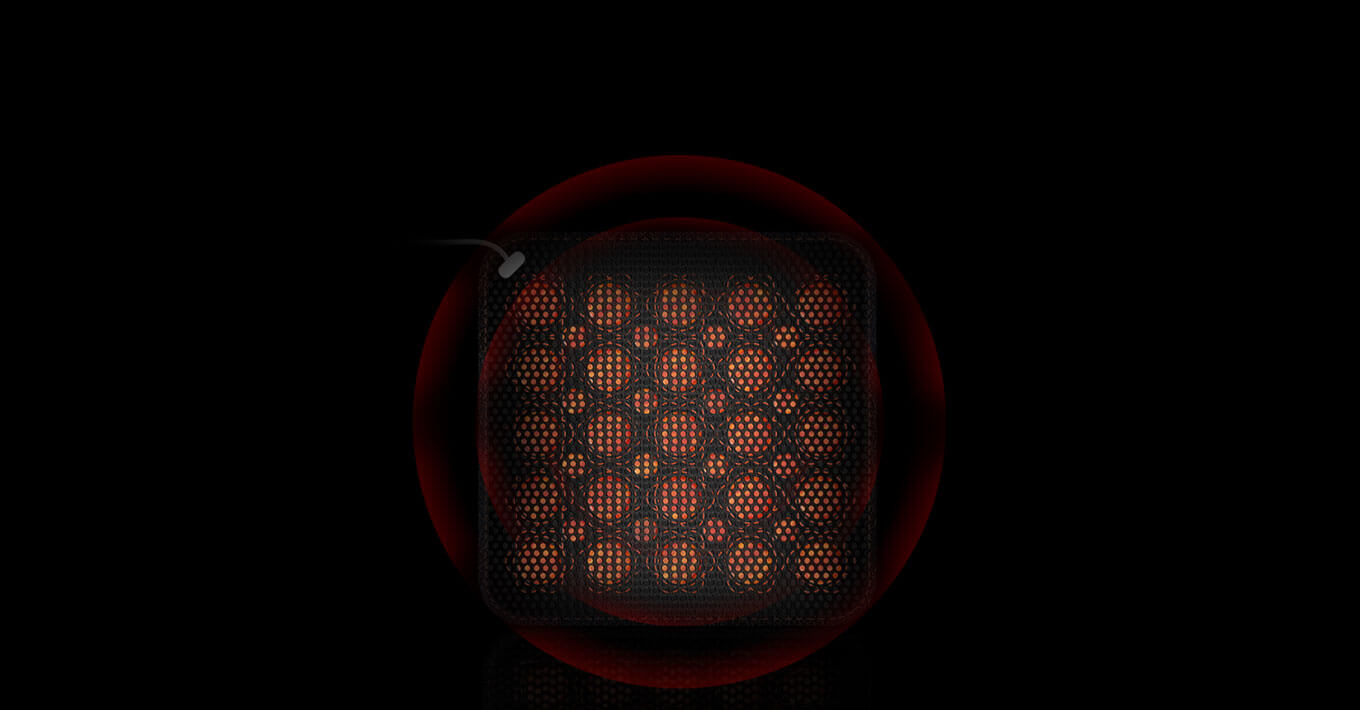 Graphene Technology
Based on science, not fiction
"Revolutionary Materials" in the 21st Century
Because graphene has important application prospects in materials science, micro-nano processing, energy, biomedicine, and drug delivery, it is recognized as the "future material" and "revolutionary material" of the 21st century. The discoverer of graphene is also Therefore won the 2010 Nobel Prize in Physics.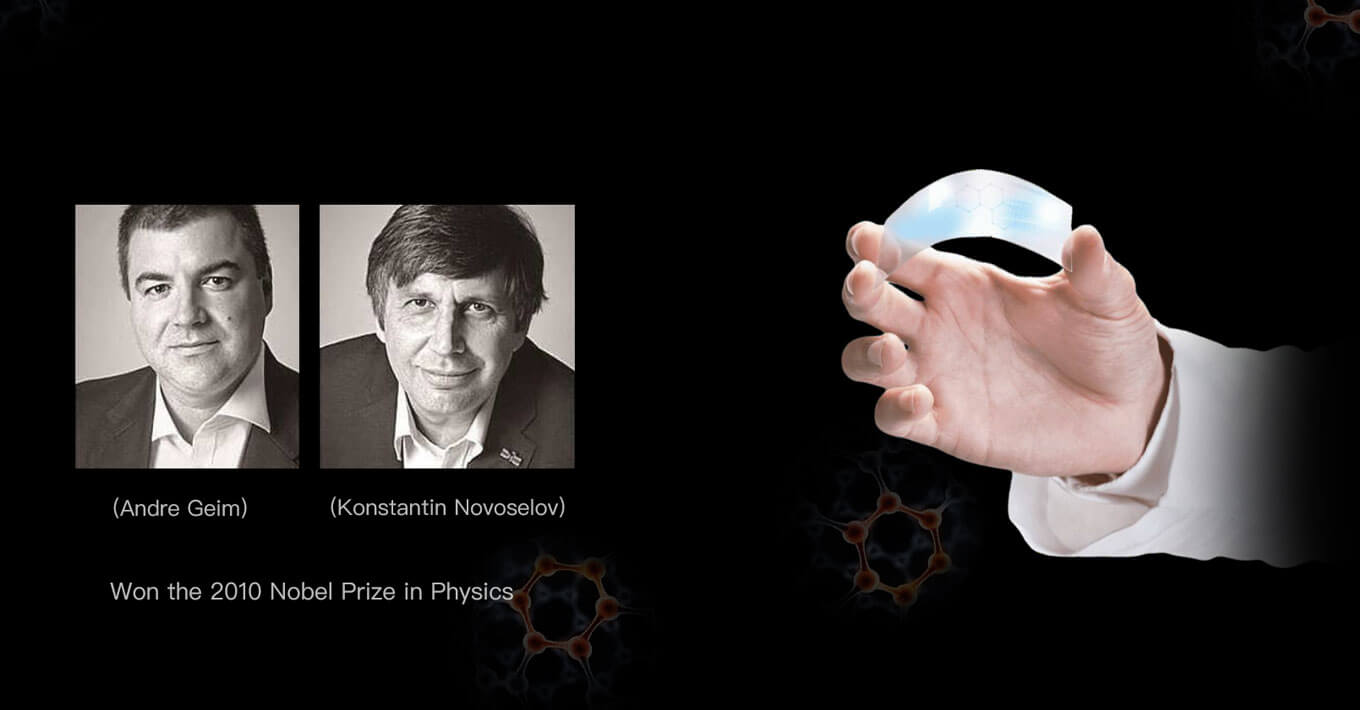 New breakthrough in graphene far-infrared tumor treatment
On March 12, 2020, the collaborative result of the scientific research team of Nanjing Medical University "Non-invasive special far-infrared tumor therapy based on graphene flexible devices" was published as a cover paper in the professional journal "Advanced Therapeutics" in the field of biomedicine (Chinese (Translated name "Advanced Medical") The 3rd issue of 2020, aroused widespread concern.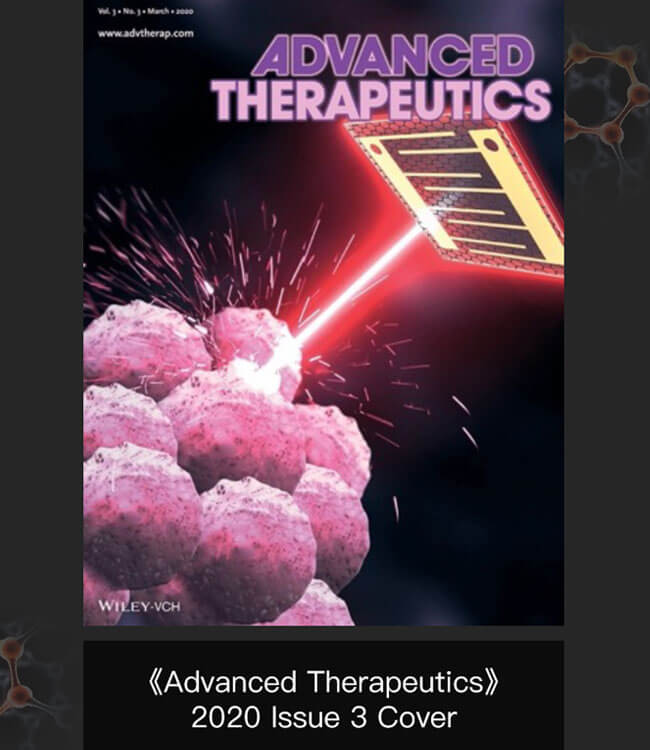 New breakthrough in graphene far-infrared tumor treatment
1. Graphene non-invasive treatment of tumors is non-invasive, and the experiment has no obvious side effects

2. Significantly increase the apoptosis rate of tumor cells and reduce the metastasis and invasion ability of tumor cells

3. Can significantly inhibit tumor growth and prolong the survival time of the body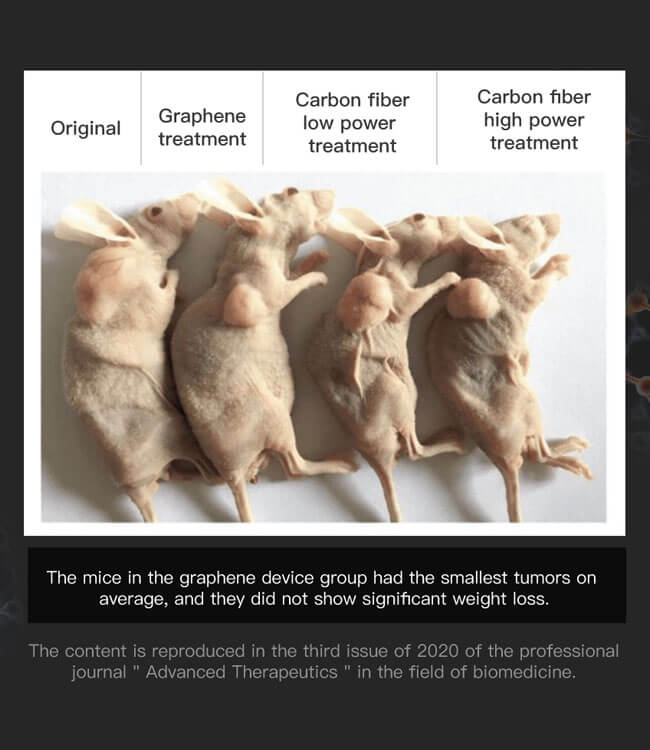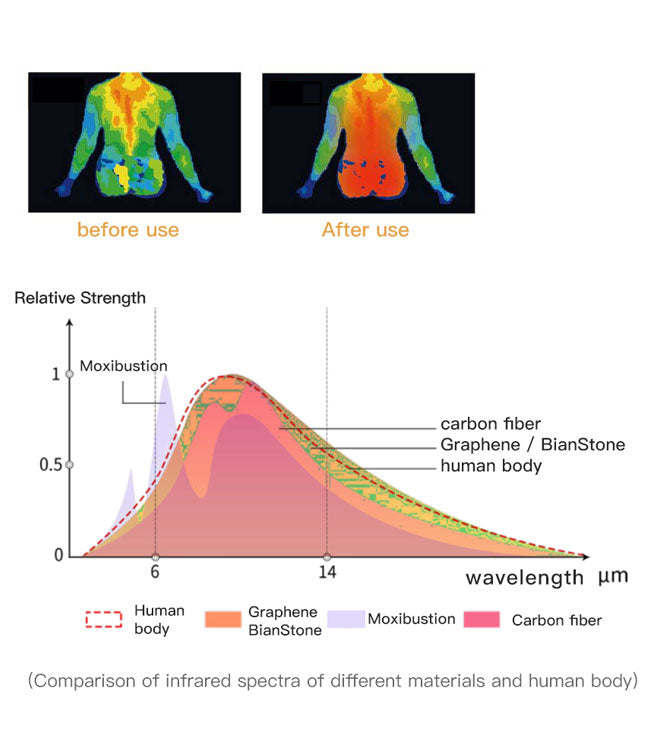 Bianstone, graphene and the human body "light waves of life"
The medical value of graphene and Bianstone far infrared rays
The far-infrared rays in the 6-14 micron band of sunlight are essential factors for the survival of organisms. They are called the "light of life" by the scientific community and are widely used in medical treatment.Tested by the National Infrared Center, the far-infrared wavelength range released by Bianstone and pure graphene when heated is concentrated in 6-14 microns, which is basically consistent with the wavelength range outside the far red line of the human body. When Bianstone and graphite heat up, they will easily cause resonance at the same frequency. The energy is better transmitted to the human body for absorption.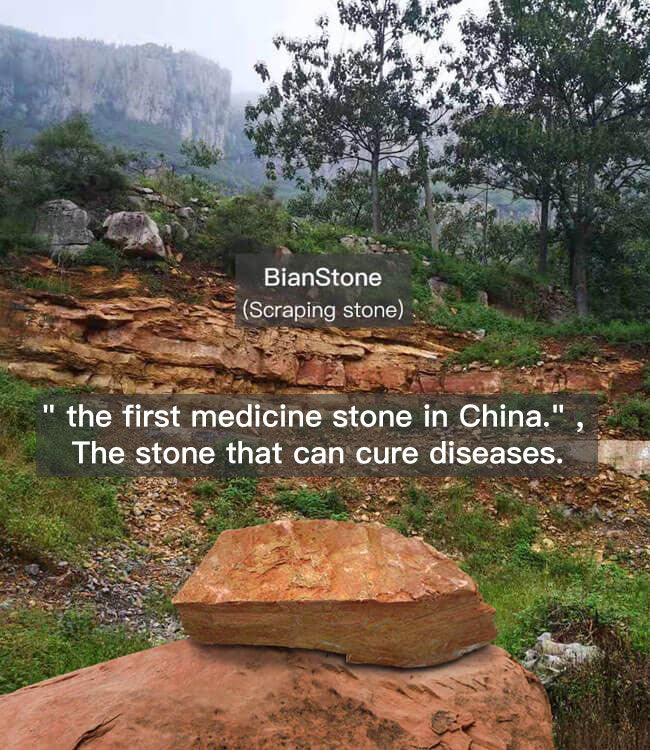 ( Gua Sha stone / Scraping stone / Rare earth metals )

Gua Sha Stone (Bian Stone) , an energy stone from the pure nature. The Stone contains more than 30 kinds of trace elements and beneficial minerals which are good to human bodies; as well as more than 20 kinds of necessary anti-aging elements such as calcium, magnesium, zinc, chromium, strontium, and selenium.
 
Stone can bring magic energy field: when stone acting on the surface of skin, it can emit far infrared radiation. The wide of frequency band can be extremely far which reach to 7-30 microns.
 
Ultrasonic pulse: Every time the Stone touch the skin, it can produce ultrasonic pulses that are beneficial to the health. The average hit number of ultrasonic pulses can reach to 3708 times. The frequency range of stone is 2 to 2 million Hz, which is the most frequent of all beneficial materials.
 
In traditional Chinese Herb Bible, the five colors (red, green, yellow, white, and black) in the Stone correspond to the heart, liver, spleen, lung, and kidney of the human body. Thus, it can achieve the physiotherapy effect - the unity of nature and man, so it is also called "the first medicine stone in China." , The stone that can cure diseases.
 
Gua Sha Stone can emit far-infrared rays which are proved to be beneficial to human bodies, and resonate at the same frequency with water molecules in human tissue cells. Which cause the human blood gas microcirculation accelerated, improved, and cells are activated to achieve thermal curative effects. The effect can help relieve body fatigue and pain, relax muscles, improve acidic physique and sleep quality and other warm treatments. It is a pure natural material, that can promote metabolism and enhance human immunity for long time use.


The surface of the red Bianstone is soft, especially for the skin to become white and red, activate the cells, improve the blood gas microcirculation, and dredge the cardiovascular and cerebrovascular vessels.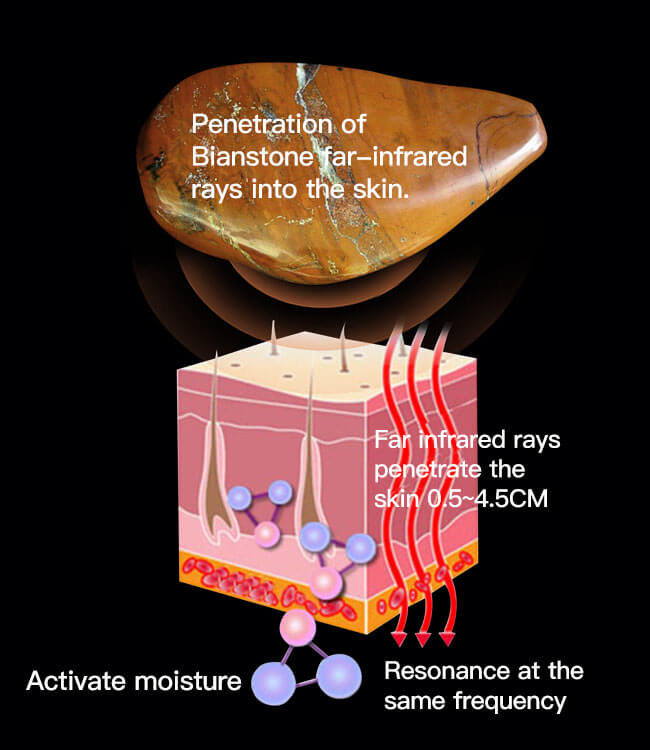 Hyperthermia
One of the major features of SitPad is the newly optimized heating function...The heat transfer speed is many times faster than that of ordinary thermal conductors and retains heat. The same-frequency co-vibration technology can achieve more and better curative effects.
● Heating to 30°C ~ 42°C,
this low temperature is incredible. It can repair cells and heal wounds. Eliminate body puffiness and improve overall skin tone.
● Heat to 45℃ ~ 50℃,
this medium temperature can be used for daily body conditioning. It is suitable for hemorrhoids, cold hands and feet, female physical discomfort, insomnia, improvement of acidic physique, etc. It can promote blood circulation and obtain a sense of comfort.
● Heat to 51℃ ~ 60℃,
Take the hyperthermia center home, this temperature can open the pores and quickly wick away perspiration and detoxification.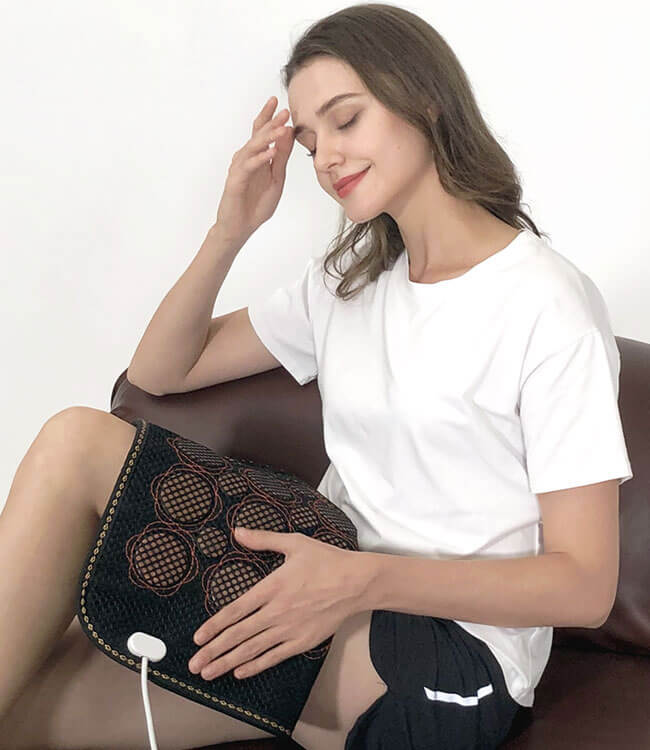 Use it with complete peace of mind
SitPad uses "semiconductor graphene heating cloth" to generate heat, instead of traditional "wires"; it does not use high-voltage work, but human-safe low-voltage work. Specifically...
# Zero electromagnetic wave
# 24V/3A human body safety low voltage input, maximum 72W, energy saving and power saving
# Safe and anti-electric shock, even temperature without scalding, waterproof
# Contains real-time temperature sensor
# Intelligent safety protection temperature control system
# 110~240V power adapter universal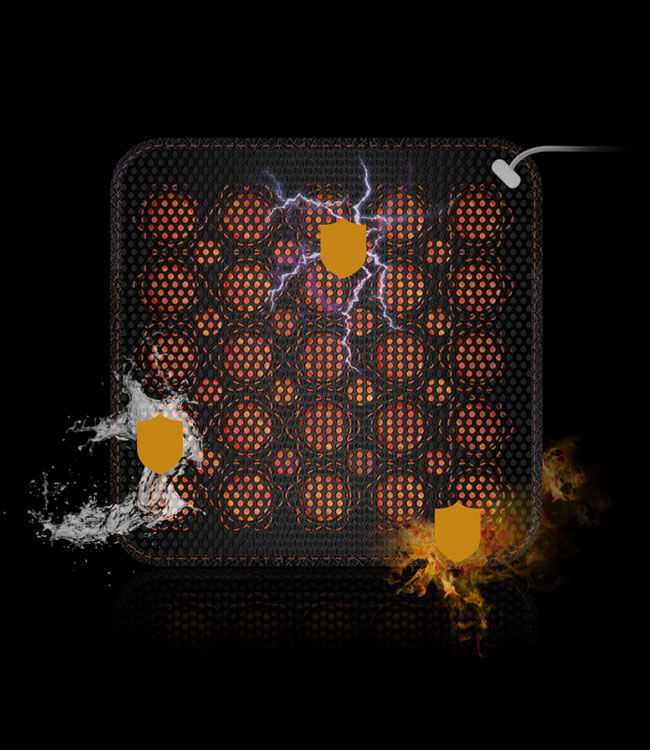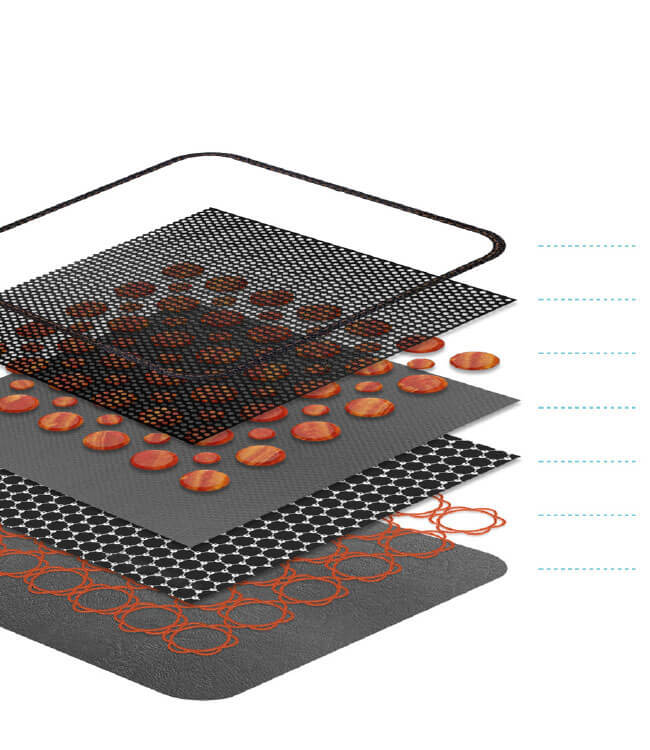 Soft, light, easy to store.
The first layer: nylon edging
The second layer: high-density mesh cloth
The third layer: natural high-quality BianStone
The fourth layer: bamboo charcoal fiber cotton layer
Fifth layer: Graphene heating film
Sixth layer: energy-gathering and slow heating layer
Seventh layer: soft leather
Safety Certification 
International safety certification
The product has passed the safety certifications including RoHs、FCC、CE-EMC、and other safety certifications provide a safe,stable and durable with multiple protections.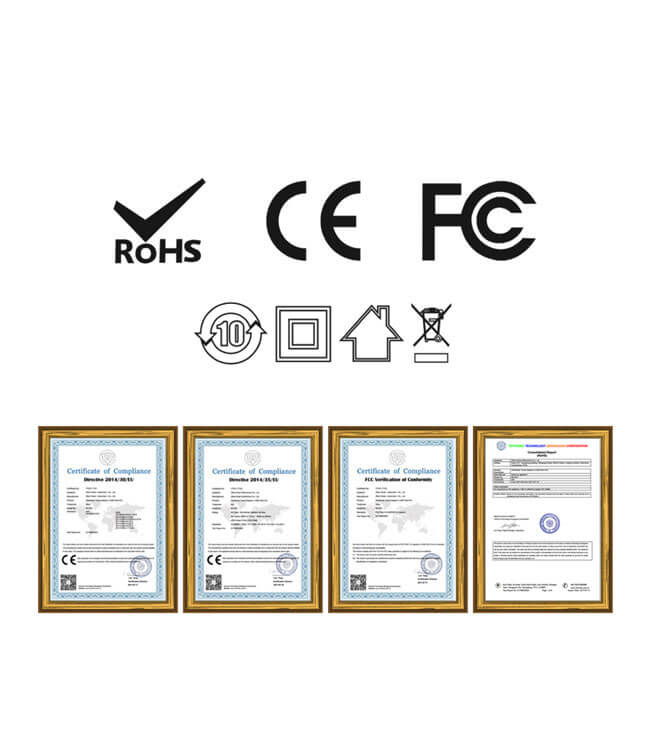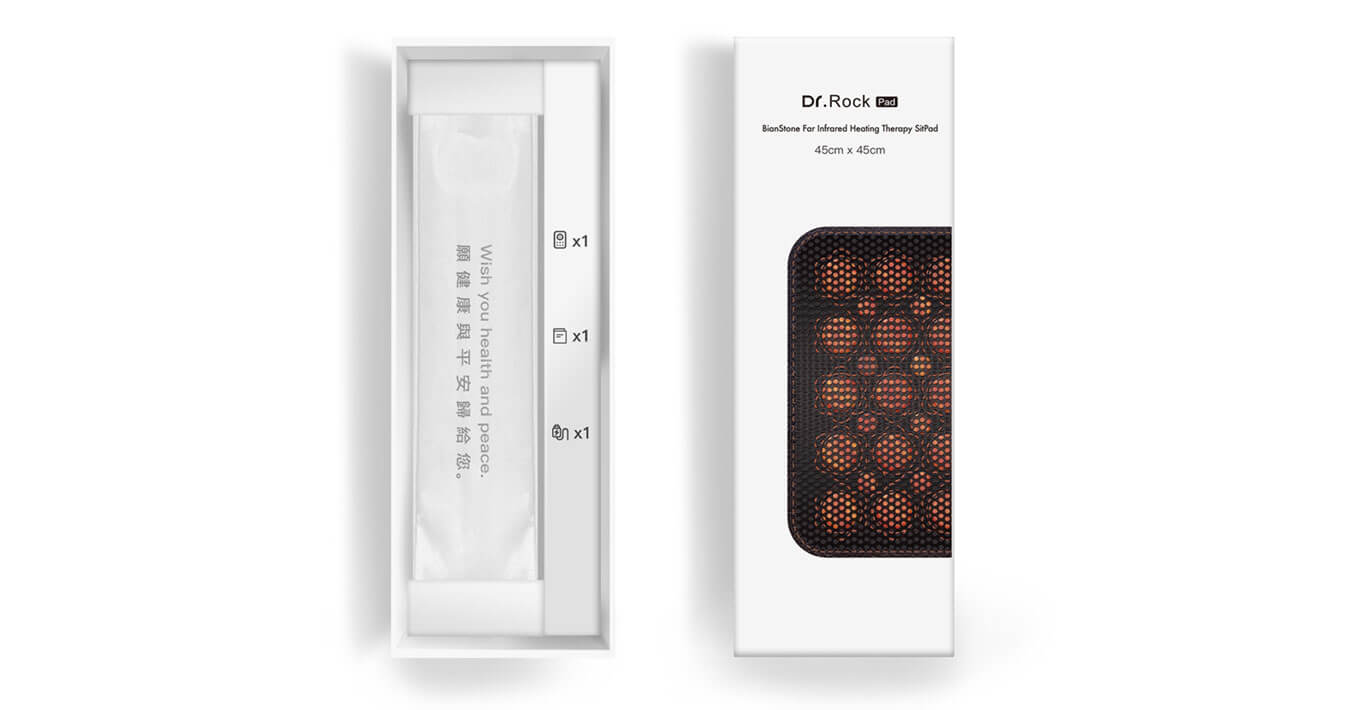 Dr. Rock Pad
BianStone Far Infrared Heating Therapy SitPad
•SitPad x1   • Temperature controller x1   • Product sheath x1   • Manual book x1    • Adapter charger x1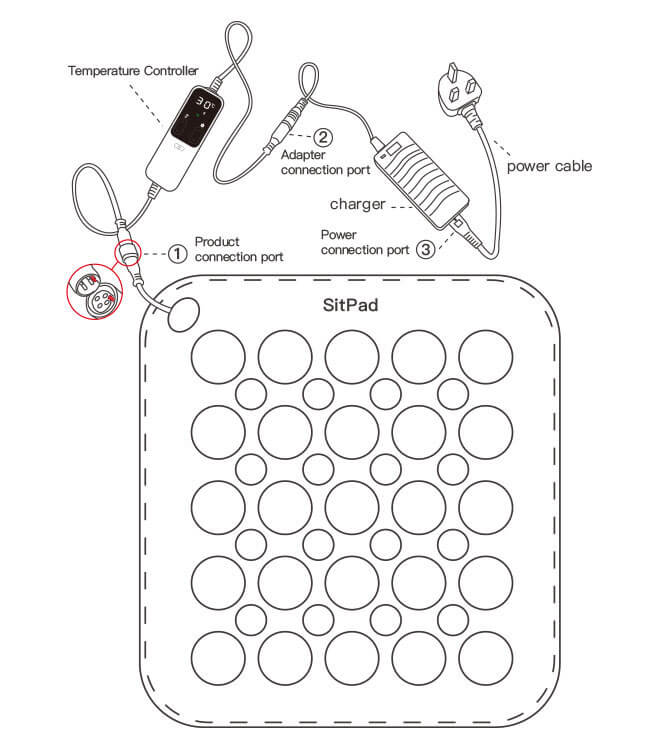 Specifications
Model:SP450
Product name:Zikko | Dr.Rock BianStone Far Infrared Heating Therapy SitPad
Size:45cm × 45cm / Weight:1.2 KG
BianStones quantity:Large grains 5 rows x 5 grains + small grains 4 rows x 4 grains = 41 grains
Therapy mode:cold therapy (indoor temperature is not heated), warm therapy, hot therapy
Adapter input voltage:100-240V~50/60Hz 2.0A
Adapter output voltage/current:24V 2.75A
Thermal cushion power:72W max
SitPad Current and Voltage:Human body safety low voltage max 24V/3A
Heating device:Graphene heating film
Adjustable range of temperature controller:1~60℃
The temperature controller can set the timing:2~12 hours
Heating temperature:about 20~60℃/up and down button adjustment
Accessories:soft leather, fireproof mesh, double-layer felt cloth
QUESTIONS & ANSWERS
Have a Question?
Be the first to ask a question about this.
Ask a Question